Established in 1984 by K. Lakshminarayanan (Chellam Iyer), SSTAKT traces its roots back 176 years, dedicated to preserving Saint Thyagaraja's legacy.
The Sadguru Sri Thyagabrahma Aradhana Kainkarya Trust (SSTAKT) is a religious-cultural organisation dedicated to preserving and promoting the legacy of one of the most prominent composers of Carnatic music, Thyagaraja Swamy (1767-1847).
The trust was established in 1984 by Sri. K. Lakshminarayanan, also known as Chellam Iyer, a school teacher who started conducting annual religious ceremonies to venerate the poet saint as per Vedic tradition, back in 1940. Today, SSTAKT operates from its office in Bengaluru under the leadership of Ved. Br. Radhakrishna G. Seshappa.
The primary objective of SSTAKT is to conduct the Vaidika Aradhana conducting the necessary Vedic ceremonies and rituals during Pushya maasa (generally during the month of January every year). The main aradhana takes place on Pushya Bahula Panchami to honour and venerate Thyagaraja Swamy who took sanyasa in the latter part of his life. Since Thyagaraja Swamy was a Yati or Sanyaasi. Conducting these rituals is part of the Vedic tradition that is followed to remember and venerate such noble and spiritual souls who renounce family life.
Bharatiya Samskruthi - Significance Of Aradhana
Aradhana Programs - Sangeeta & Nritya Utsava's
Vaidika Aradhana Of Thyagaraja Swamy
Ved. Br. Sri. Subrahmanya Bhat
Ved. Br. Sri. Bennegadde Narayan Bhat
Ved Br. Sri. Govinda Prabhas
1. Dr. Nagamani Srinath
2. Dr. Suma Sudhindra
3. Sri. Gana Murthy
Media Relations & Publicity Committee
1. Smt. Sangeeta Radhakrishna
2. Sri. Mahesh
3. GVS Ventures (Social Media)
Hospitality & Logistics Committee
1. Sri. Krishna Bhat – Catering 2. Sri. Vijaya Kumar
Aradhana Traditions: Join us during the revered Aradhana ceremonies held during Pushya Bahula Panchami. These ceremonies involve Vedic rituals, pujas, and chanting, all paying homage to Saint Tahyagaraja's enduring legacy.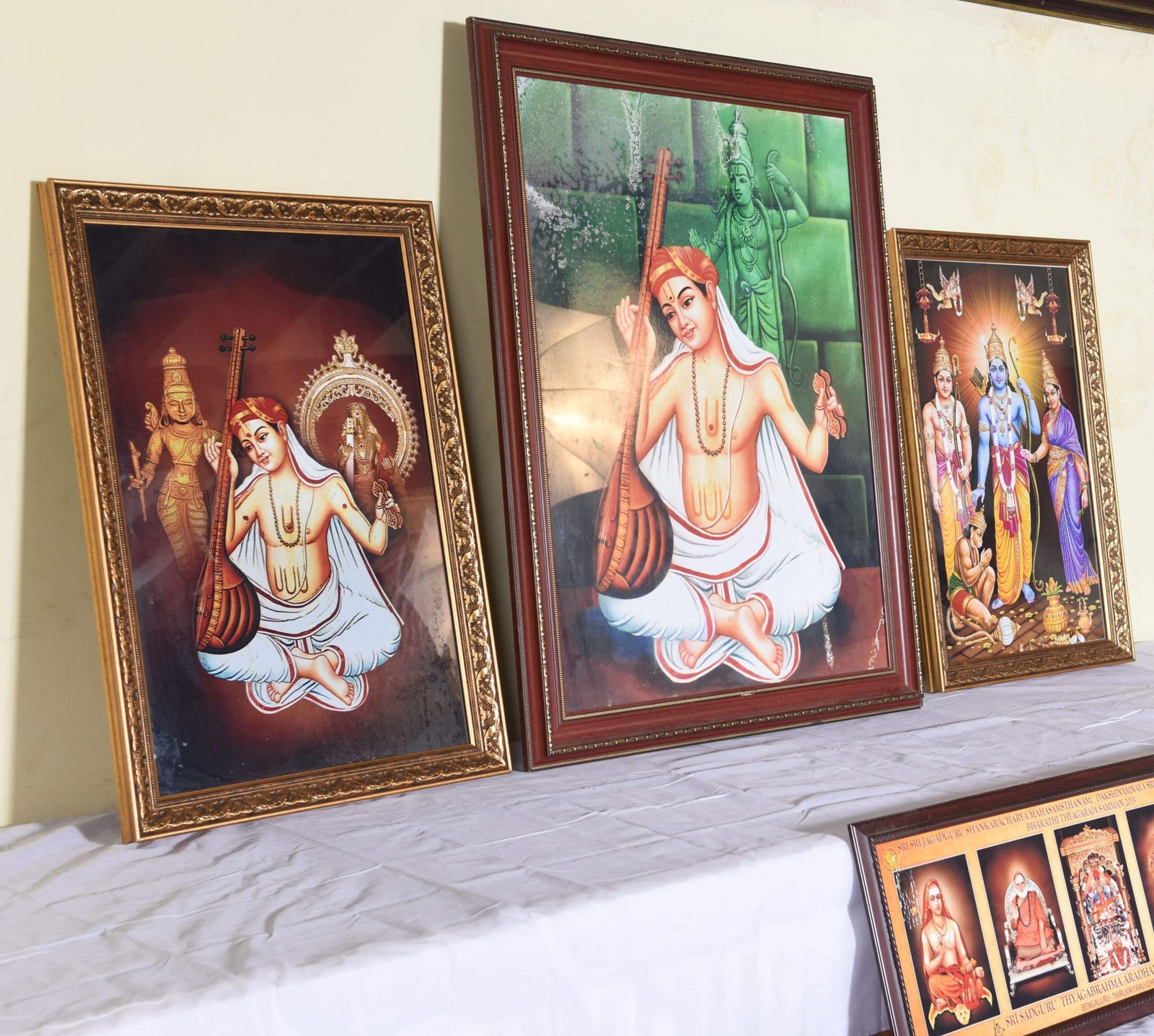 The Aradhana ceremonies are a sacred homage, embracing Vedic rituals, pujas, and chants, symbolizing a spiritual tribute to the revered Saint Thyagaraja, venerating his renunciant life and profound contributions.
These ceremonies hold immense cultural significance, serving as a timeless link to our heritage, honoring the saint's enduring legacy while fostering a sense of cultural continuity & preservation.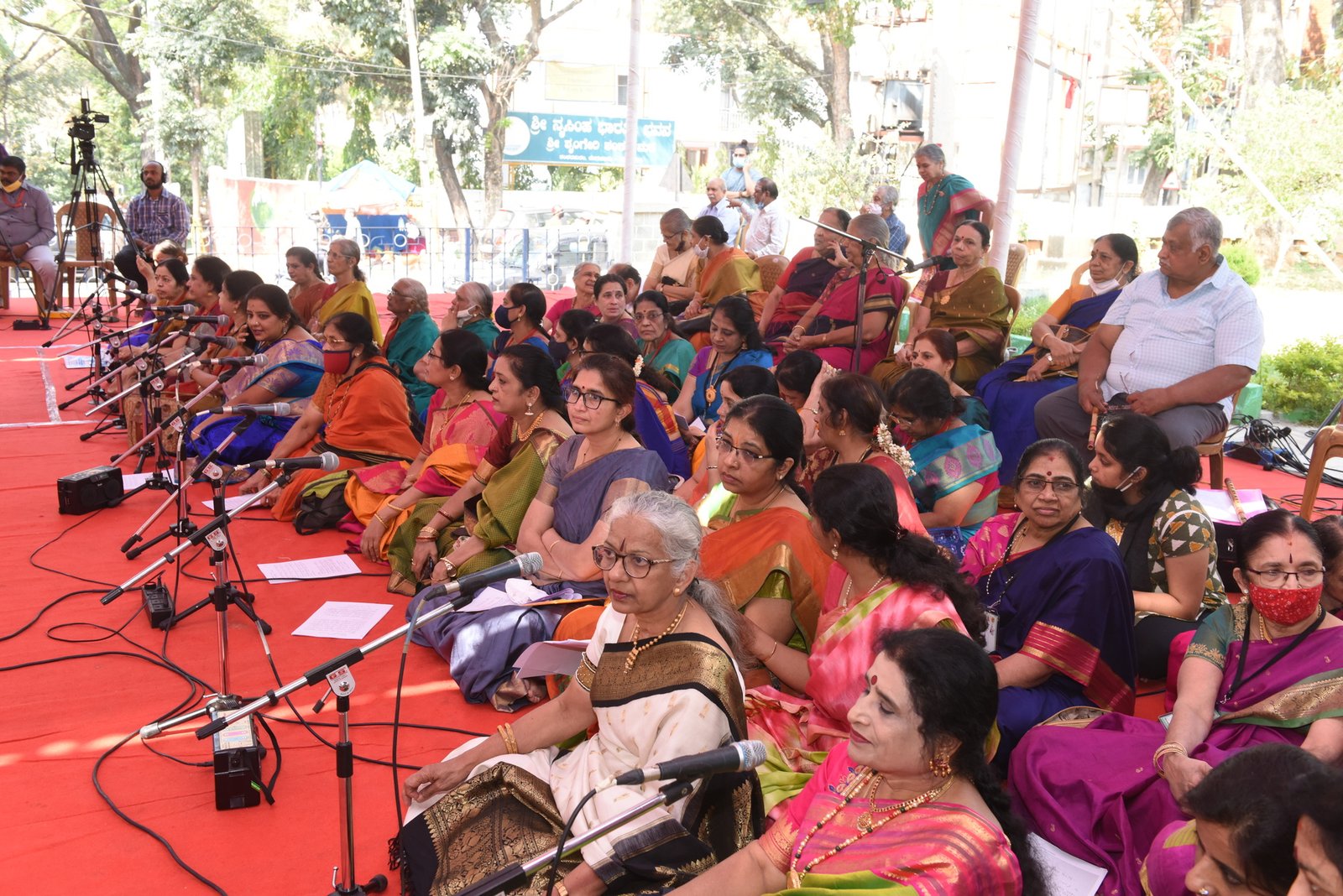 The Aradhana ceremonies foster unity, gathering devotees, musicians & spiritual seekers in a endeavor to celebrate the saint's spiritual resonance, promoting community harmony & spiritual devotion.